Ric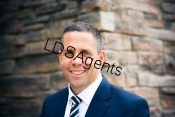 About:
Ric was the top selling Realtor for the third largest Real Estate company in Arizona (having had over 1,500 agents), and to this day is consistently ranked in the top 1% of Realtors in Arizona and the United States.
Throughout his 19 year Real Estate career, Ric has successfully negotiated hundreds and hundreds of transactions (Homes and Raw Land) on behalf of his clients. The vast majority have resulted from the referral of a past or present client.
Beyond Ric's real estate successes lay his greatest joy; his family which includes his wife of 25 years and their eight beautiful children…and their first grandchild! Ric is also committed to countless hours of service with his church, the Boy Scouts of America and local sports programs. These activities allow him to achieve the balance necessary to truly enjoy life."
Reviews:
I was lucky enough to be able to use Ric as my real estate agent. I didn't know anyone, so I requested a referral from LDSAgents.com. He came highly recommended from people on this site.
Both my daughter and I both ended up buying lots in a new area of a subdivision. Usually, that is where it would end. Most real estate agents would just turn everything over to the builder and not be back until it was time to pick up his commission check. Ric is not most agents. He was there with us for all of our different walk-thrus. I knew I could always call with questions or concerns. He was quick to respond and I never felt like I was bothering him. (Even if I was!)
I would highly recommend him with absolutely no reservations! My daughter and I felt lucky to have found him and I'm sure you will too!
Laurie

We had the privilege of having Ric sell our house and get us into a new property. He got us top dollar for our house and negotiated a great deal for us on our new property. After the Transaction is complete you will not only have had great representation you will have walked away with a new friend.
Cameron & Valerie
Ric Ashby has helped me through the sell and purchase of 4 homes over the past 20 years. Ric's skill in negotiations along with his exceptional knowledge of the real estate business, brings comfort to me as a client. He is a master at his craft and he has been in the service of many family members who will continue to trust him with all of our real estate needs.
Carlene
My wife and I have been utilizing Ric for real estate for 13 years, both in purchasing income and our personal properties. Ric understands the pressures of real estate transaction, as well as the ever-changing nature of the markets. His expertise in the buying and selling process, as well as his attention to detail always ensured a smooth, relaxed transaction.
Mike & Aimee
I reached out to a friend I'd known for years who used to live in Phoenix and he recommended his cousin, Ric. I gave Ric a call and he was very easy to talk to and understood what my family needed. We flew down to Phoenix and Ric took us around the entire valley, he knows it well and made great recommendations for areas and schools. He even helped us find needed insurance, pest control and other necessities. Use this guy! He's so amazing! I can't say enough good about him!
Shane & Ally