We connect home buyers and sellers with real estate professionals in
Cheyenne and many other Wyoming Cities
Cheyenne is the capital and most populous city in the state of Wyoming and the county seat of Laramie County. Concerts, festivals and farmers markets fill the Depot Plaza. Wyoming's capital city embodies the spirit of the Old West. It is considered the nation's rodeo and railroad capital, and is home to a variety of museums, historic hotels and mansions, a collection of steam engines, western-themed attractions and shopping, and resorts and ranches.
LDS Population
LDS Members make up 5.00% of the population of Cheyenne. Groundbreaking for the Star Valley Wyoming Temple is anticipated sometime in 2014. The state of Wyoming has 63,069 members in 16 stakes, 134 wards and 20 branches.
LDS History
Martin's Cove is a historic site in Wyoming. In November 1856, about 500 Mormon emigrants in the Martin Handcart Company were halted for five days in the Cove by snow and cold while on their way to Salt Lake City. The Martin Handcart company had begun its journey on July 28, 1856 which was dangerously late in the season and would ultimately lead to the disaster. Although the number who died in the Cove is unknown, more than 145 members of the Martin Company died before reaching Salt Lake City.
LDS
REALTORS

Cheyenne, WY Area
A FREE service connecting you with experienced LDS Real Estate Agents in Cheyenne, Warren AFB, South Greeley, Orchard Valley and the surrounding area.
As seen on BYU-TV, we understand your family needs and concerns about food storage, ward boundaries, seminary and more. Find an LDS Realtor now!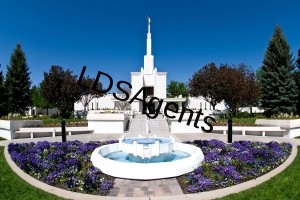 Denver Colorado Temple
109 miles S of Cheyenne
Family Friendly
There are plenty of family-oriented attractions, but if the kids want something all their own, take them to the IKON Center for arcade games, laser tag and more. Whether it's rodeos, golf, parks, national forests, museums or symphony, there's no shortage of options here to keep everyone happy.
Cheyenne has a population of 59,466 according to the 2010 United States Census. Cheyenne is situated on Crow Creek and Dry Creek. The Cheyenne Metropolitan area had a 2010 population of 91,738.