We connect home buyers and sellers with real estate professionals in
Casper and many other Wyoming Cities
Casper is nicknamed "The Oil City" and has a long history of oil boomtown and cowboy culture, dating back to development of the nearby Salt Creek Oil Field. Casper is located in east-central Wyoming at the foot of Casper Mountain, the north end of the Laramie Mountain Range, along the North Platte River.
LDS Population
LDS Members make up 6.54%% of the population of Casper. Groundbreaking for the Star Valley Wyoming Temple is anticipated sometime in 2014. The state of Wyoming has 63,069 members in 16 stakes, 134 wards and 20 branches.
LDS History
Martin's Cove is a historic site in Wyoming. In November 1856, about 500 Mormon emigrants in the Martin Handcart Company were halted for five days in the Cove by snow and cold while on their way to Salt Lake City. The Martin Handcart company had begun its journey on July 28, 1856 which was dangerously late in the season and would ultimately lead to the disaster. Although the number who died in the Cove is unknown, more than 145 members of the Martin Company died before reaching Salt Lake City.
LDS
REALTORS

Casper, WY Area
A FREE service connecting you with experienced LDS Real Estate Agents in Casper and the surrounding area.
As seen on BYU-TV, we understand your family needs and concerns about food storage, ward boundaries, seminary and more. Find an LDS Realtor now!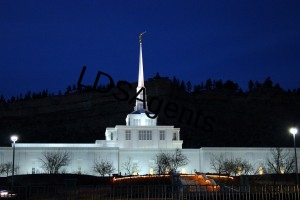 Billings Montana Temple
277 miles NW of Casper
Family Friendly
Casper offers plenty to see and do with art museums, galleries, a surprisingly active theater scene, movies, wild west exhibits and history museums, year-round sports events, and some of the best rodeo action in the world. Any time of year you will encounter unforgettable landscapes, see herds of deer and antelope or magnificent Canadian geese soaring overhead — visual memories that will last a lifetime.
Casper is the second-largest city in Wyoming, according to the 2010 census, with a population of 55,316. Only Cheyenne, the state capital, is larger.