We connect home buyers and sellers with real estate professionals in
Spokane and many other Washington Cities
The city is located on the Spokane River in Eastern Washington, Spokane is a beautiful city with much to do and see. The hunter-gatherer Spokane tribe after which the city is named which means "children of the sun" or "sun people" were the first humans to live in the Spokane area arrived between twelve to eight thousand years ago. Spokane's has a rich arts scene, delicious local eateries and must-see area attractions.
LDS Population
LDS Members make up 5.17% of the population of Spokane. In the state of Washington there are 149,089 members in 36 stakes, 253 wards, 50 branches, 3 missions, and 3 temples.
LDS History
In 1852, John Bozarth, a Church member who had lived in Nauvoo, Ill., settled on the Lewis River in Washington Territory. In 1854 four missionaries serving in California, John Hughes, Clark Faben, Alfred Bybee, and Silas Harris, were sent to labor in the Washington and Oregon territories. Many Church members worked on the construction of the Northern Pacific and Oregon Short Line railroads in the 1880s and a few later moved into the Northwest.
LDS
REALTORS

Spokane, WA Area
A FREE service connecting you with experienced LDS Real Estate Agents in Spokane, Cheney, Liberty Lake, and the greater Coeur d'Alene, Idaho area.
As seen on BYU-TV, we understand your family needs and concerns about food storage, ward boundaries, seminary and more. Find an LDS Realtor now!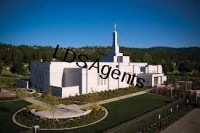 Spokane Temple
Spokane Washington
Family Friendly
The Spokane region boasts many unique communities, all with a slightly different flavor. Spokane, the undisputed heart of the Inland Northwest, hosted the first environmentally themed World's Fair in 1974. A hot spot in the Inland Northwest at the turn of the century, Liberty Lake once drew more than 14,000 people to its shores for the Fourth of July.
Spokane has a population of 208,916 people. It is located 92 miles (148 km) south of the Canadian border. approximately 20 miles (32 km) from the Washington–Idaho border, and 232 miles (373 km) east of Seattle.