We connect home buyers and sellers with real estate professionals in
Everett and many other Washington Cities
Named for Everett Colby, son of founder Charles L. Colby, it lies 25 miles north of Seattle. It received an All-America City Award in 2002. Everette is home to Boeing's assembly plant for the 747, 767, 777 and the new 787. Boeing's Everett facility is known for being the largest building in the world by volume at 116.5 million cubic feet.
LDS Population
LDS Members make up 3.20% of the population of Everett. In the state of Washington there are 149,089 members in 36 stakes, 253 wards, 50 branches, 3 missions, and 3 temples.
LDS History
In 1852, John Bozarth, a Church member who had lived in Nauvoo, Ill., settled on the Lewis River in Washington Territory. In 1854 four missionaries serving in California, John Hughes, Clark Faben, Alfred Bybee, and Silas Harris, were sent to labor in the Washington and Oregon territories. Many Church members worked on the construction of the Northern Pacific and Oregon Short Line railroads in the 1880s and a few later moved into the Northwest.
LDS
REALTORS

Everett, WA Area
A FREE service connecting you with experienced LDS Real Estate Agents in Everett and the surrounding area.
As seen on BYU-TV, we understand your family needs and concerns about food storage, ward boundaries, seminary and more. Find an LDS Realtor now!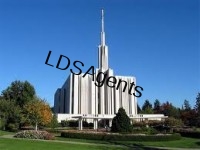 Seattle Washington Temple
28 miles S of Everett
Family Friendly
You'll find some of the best salmon and steelhead fishing in the world here. Everett has the largest public marina on the West Coast, home of the Everett Silvertips ice hockey team and AquaSox minor league baseball team. Enjoy more than 1,600 acres of beautiful parks, trails and playgrounds and nearly 50 miles of freshwater and saltwater shorelines.
Everett has a total population of 103,019 making it the 6th largest in the state and fifth-largest in the Puget Sound area.