We connect home buyers and sellers with real estate professionals in
Washington DC and many other Virginia Cities
Washington DC Area, Virginia
Washington DC is the capitol of the United States. It is known as a worldwide hub of influence and the nerve center for U.S. policy and politics. Washington DC is the second most visited city in the US after New York.
LDS Population
LDS Members make up 0.39% of the population of Washington DC. There are 2,485 members, 2 wards and one branch.
LDS History
On January 29, 1844, the Prophet Joseph Smith formally decided to run for the office of president of the United States. It began in 1939. Joseph Smith left Nauvoo for Washington, D.C., with Sidney Rigdon, Elias Higbee, and Orrin Porter Rockwell in a two-horse carriage "to lay before the Congress of the United States, the grievances of the Saints while in Missouri." Joseph and Judge Higbee met with President Martin Van Buren on November 29, 1839. Assasination ended the run for president as Joseph Smith was martyred on June 27, 1844.
LDS
REALTORS

Washington DC, VA Area
A FREE service connecting you with experienced LDS Real Estate Agents in the greater Washington DC area, including:
Virginia: Alexandria, Fairfax, Vienna, Leesburg, Herndon… Maryland: Gaithersburg, Rockville, Bethesda, Baltimore, and many more!
As seen on BYU-TV, we understand your family needs and concerns about food storage, ward boundaries, seminary and other important matters.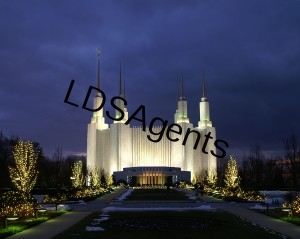 Washington DC Temple
Washington DC
Family Friendly
The Washington DC area is packed with so much to do and see. With all the national museums, memorial, historic venues, walking guides and tours you could spend many days there and still not see all there is available to you.
Washington DC has a population of 623,323 people living on 61.4 square miles. The states of Maryland and Virginia each donated land to form the federal district, which included the preexisting settlements of Georgetown and Alexandria; however, Congress returned the Virginia portion in 1846. Named after George Washington, it was founded in 1791 as the national capital.