We connect home buyers and sellers with real estate professionals in
Richmond and many other Virginia Cities
Rich with history there is much to see and learn in Richmond. Brave the gorgeous yet intense James River, which distinguishes the Richmond Region as the only urban setting with Class IV rapids. See how the Virginia Museum of Fine Arts is expanding its world-class offerings.
LDS Population
LDS Members make up o.65% of the population of Richmond. The state of Virginia has 90,738 members in 19 stakes, 157 wards, 40 branches, and 2 missions. The Virginia Richmond Mission was created in October 1947.
LDS History
Jedediah M. Grant, an early missionary for The Church of Jesus Christ of Latter-day Saints, was highly demanded in Virginia. He received three speaking invitations for every one he could fill in the 1840s. His listeners gave him a horse, clothing, and funds to assist his future preaching assignments. In 1841, there were some 80 members of the Church in Virginia. After Grant and his brother left the state in 1842, another missionary, R.H. Kinnamon, traveled to nine counties and baptized more than 100 people.
LDS
REALTORS

Richmond, VA Area
A FREE service connecting you with experienced LDS Real Estate Agents in Richmond, Chester, Mechanicsville, Midlothian, and many more cities.
As seen on BYU-TV, we understand your family needs and concerns about food storage, ward boundaries, seminary and more. Find an LDS Realtor now!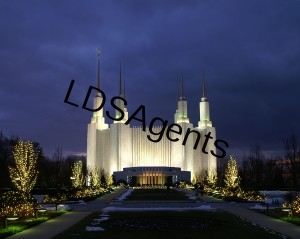 Washington DC Temple
108 miles N of Richmond
Family Friendly
Discover history, adventure and an easily accessible location in the Historic Richmond Region. Here, more than 400 years of American history live on through magnificent architecture, monument-lined cobblestone streets, and world-class museums – for an experience that's anything but textbook.
Richmond has a population of 204,214 people. Richmond is the capital of the Commonwealth of Virginia, in the United States. It is an independent city and not part of any county. The site of Richmond had been an important village of the Powhatan Confederacy, and was briefly settled by English colonists from Jamestown in 1609–1611.