We connect home buyers and sellers with real estate professionals in
Fredericksburg and many other Virginia Cities
Located near where the Rappahannock River crosses the Fall Line, Fredericksburg was a prominent port in Virginia during the colonial era. During the Civil War, the town, located halfway between the capitals of the opposing forces, was the site of the Battle of Fredericksburg and Second Battle of Fredericksburg. Approximately 1.5 million people visit the Fredericksburg area annually.
LDS Population
LDS Members make up 0.09% of the population of Fredericksburg. The state of Virginia has 90,738 members in 19 stakes, 157 wards, 40 branches, and 2 missions. The Virginia Richmond Mission was created in October 1947.
LDS History
Jedediah M. Grant, an early missionary for The Church of Jesus Christ of Latter-day Saints, was highly demanded in Virginia. He received three speaking invitations for every one he could fill in the 1840s. His listeners gave him a horse, clothing, and funds to assist his future preaching assignments. In 1841, there were some 80 members of the Church in Virginia. After Grant and his brother left the state in 1842, another missionary, R.H. Kinnamon, traveled to nine counties and baptized more than 100 people.
LDS
REALTORS Fredericksburg, VA

Area
A FREE service connecting you with experienced LDS Real Estate Agents in Fredericksburg and the surrounding area.
As seen on BYU-TV, we understand your family needs and concerns about food storage, ward boundaries, seminary and more. Find an LDS Realtor now!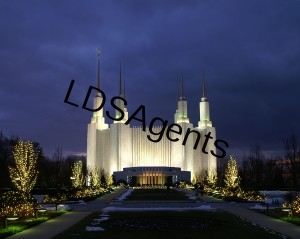 Washington DC Temple
53 miles NW of Fredericksburg
Family Friendly
Experience the authentic American experience in the Fredericksburg region. You'll have fun discovering Fredericksburg area's unique present and entertaining past, in its historical attractions and battlefields, shops, galleries, restaurants and golf courses.
As of the 2010 census, the population of Fredericksburg was 24,286. Located 49 miles south of Washington, D.C. and 58 miles north of Richmond, Fredericksburg is part of the Washington Metropolitan Area.