We connect home buyers and sellers with real estate professionals in
Fairfax and many other Virginia Cities
Since its settlement in the 1700s, Fairfax has been at the heart of Northern Virginia's government and commercial activities. The City of Fairfax's rich heritage follows the development of the nation from a rural crossroads to a prosperous cosmopolitan area. Located just 20 minutes from Washington, D.C., the city's attractive blend of commercial, office, retail, and residential properties combines the charm of a small town with the opportunities of a thriving urban area.
LDS Population
LDS Members make up 0.13% of the population of Fairfax. The state of Virginia has 90,738 members in 19 stakes, 157 wards, 40 branches, and 2 missions.
LDS History
Jedediah M. Grant, an early missionary for The Church of Jesus Christ of Latter-day Saints, was highly demanded in Virginia. He received three speaking invitations for every one he could fill in the 1840s. His listeners gave him a horse, clothing, and funds to assist his future preaching assignments. In 1841, there were some 80 members of the Church in Virginia. After Grant and his brother left the state in 1842, another missionary, R.H. Kinnamon, traveled to nine counties and baptized more than 100 people.
LDS
REALTORS

Fairfax, VA Area
A FREE service connecting you with experienced LDS Real Estate Agents in Fairfax and the surrounding area.
As seen on BYU-TV, we understand your family needs and concerns about food storage, ward boundaries, seminary and more. Find an LDS Realtor now!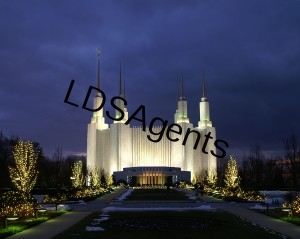 Washington DC Temple
19 miles E of Fairfax
Family Friendly
Make one of your first stops the Fairfax Museum and Visitor Center, an excellent source for tourism information about the city and the region. Be sure to visit the Angelika Film Center, National Firearms Museum, Cinema Arts Theatre, and the George Mason University Center for the Arts.
Fairfax has a population of about 22,565. In May 2009, Fairfax was ranked No. 3 in the "Top 25 Places to Live Well" by Forbes Magazine. Forbes commended Fairfax for its strong public school system, high median salary, and a rate of sole proprietors per capita that ranks it in the top 1% nationwide.