We connect home buyers and sellers with real estate professionals in
St. George and many other Utah Cities
St. George itself was named in honor of George A. Smith, who, although he did not participate in the town's settlement, had personally selected most of the company of the pioneers of 1861. Snow Canyon and Zion National Park/Colorado Plateau are famous destinations throughout the world.
LDS Population
LDS Members make up 68.31% of the population of St. George. The state of Utah has 1,936,074 members in 558 stakes, 1 district, 4,481 wards, 334 branches, and 6 missions. There are now 17 temples operating or under construction in Utah.
LDS History
St. George is often referred to as "Utah's Dixie." Upon arrival here, pioneers discovered in 1861, with the help of irrigation, cotton could grow abundantly in the St. George area. By 1854 the LDS Church had established an Indian mission at Santa Clara, two miles north of the St. George Valley. In 1857 and 1858 experimental farms were set up to the east and west of where St. George was to be built. While touring the experimental desert farms in May 1861, Brigham Young predicted the settling of the area. Five months later, in October 1861, 309 families were called by church authorities to what was called the Cotton Mission. Most of those sent had abilities that were deemed essential to establishing a successful community.
LDS
REALTORS

St. George, UT Area
A FREE service connecting you with experienced LDS Real Estate Agents in St. George and the surrounding area.
As seen on BYU-TV, we understand your family needs and concerns about food storage, ward boundaries, seminary and more. Find an LDS Realtor now!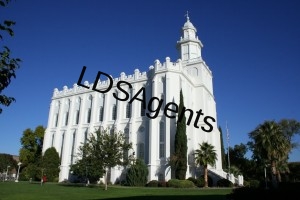 St. George Utah Temple
St. George Utah
Family Friendly
Imagine a place where the colors will astound you. Where the trails are endless and the views are elevated. A place that has big city amenities but a small town feel. Imagine a place where you have endless ways to disconnect yet equal reasons to reconnect. That place is the St. George area & Zion National Park.
As of 2012, the US Census Bureau estimated St. George had a population of 75,561. St. George was the second fastest-growing metropolitan area in the United States, only after Greeley, Colorado, in 2005. In 2012, the metropolitan area (defined as Washington County) had an estimated 144,809 residents.