We connect home buyers and sellers with real estate professionals in
Salt Lake City and many other Utah Cities
Due to its proximity to the Great Salt Lake, the city was originally named "Great Salt Lake City"—the word "great" was dropped from the official name in 1868. Salt Lake City is the capital and the most populous city in the state of Utah. Salt Lake City has since developed a strong outdoor recreation tourist industry based primarily on skiing, and hosted the 2002 Winter Olympics. It is the industrial banking center of the United States.
LDS Population
LDS Members make up 59.34% of the population of Salt Lake City. The state of Utah has 1,936,074 members in 558 stakes, 1 district, 4,481 wards, 334 branches, and 6 missions. There are now 17 temples operating or under construction in Utah.
LDS History
Elder Orson Pratt of the Quorum of the Twelve and Erastus Snow were the first Latter-day Saints to enter the Great Basin, arriving in what is now Salt Lake City on 21 July 1847. They were followed by the advance party that included President Brigham Young. On 24 July, Brigham Young and the rest of the group of 148 saints arrived and on 28 July, President Young selected the site where the Salt Lake Temple would be built. Within a month, the city had been surveyed, 80 acres of land had been planted, 29 log houses had been built, nearby valleys had been explored, a bowery and adobe fort had been constructed, and trade shops had been started.
LDS
REALTORS

Salt Lake City, UT Area
A FREE service connecting you with experienced LDS Real Estate Agents in Salt Lake City and the surrounding area.
As seen on BYU-TV, we understand your family needs and concerns about food storage, ward boundaries, seminary and more. Find an LDS Realtor now!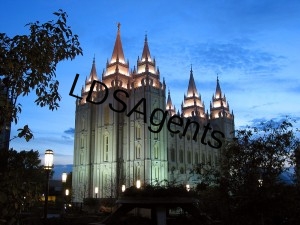 Salk Lake City Temple
Salt Lake City
Family Friendly
Salt Lake is a city of historic Capitol Hill mansions, jazz music clubs, pop-up artisanal Farmers Markets, and world-class Clark Planetarium is set against the inspiring Wasatch Mountains. 21st century downtown office towers surround Mormon pioneer Brigham Young's 19th century Beehive House. Eight ski resorts are less than an hour's drive from downtown.
With an estimated population of 189,314 in 2012, the city lies in the core of the Salt Lake City metropolitan area, which has a total population of 1,175,905. Salt Lake City is further situated in a larger urban area known as the Wasatch Front, which has a population of 2,328,299.