We connect home buyers and sellers with real estate professionals in
Orem and many other Utah Cities
Orem is home to Utah Valley University, the largest university in the state. The Timpanogos Story Telling Festival is one the largest in the nation and brings thousands of visitors. Utah Lake is the largest fresh water lake in the state. Sundance Resort is located 13 miles northeast at Provo Canyon.
LDS Population
LDS Members make up 88.69% of the population of the Orem area. Some Orem residents attend the Provo Temple and others attend the Mount Timpanogos Temple in American Fork. The state of Utah has 1,936,074 members in 558 stakes, 1 district, 4,481 wards, 334 branches, and 6 missions. There are now 17 temples operating or under construction in Utah.
LDS History
ather Silvestre Velez de Escalante, a Spanish Franciscan missionary-explorer, is considered the first European explorer to have visited the area, in 1776. Escalante chronicled this first European exploration across the Great Basin desert. Provo was originally called Fort Utah when it was settled in 1849 by 33 Mormon families from Salt Lake City, but was renamed Provo in 1850 for Étienne Provost, an early French-Canadian trapper who arrived in the region in 1825. The Battle of Fort Utah was fought at Provo in 1850.
LDS
REALTORS

Orem, UT Area
A FREE service connecting you with experienced LDS Real Estate Agents in the Orem area.
As seen on BYU-TV, we understand your family needs and concerns about food storage, ward boundaries, seminary and more. Find an LDS Realtor now!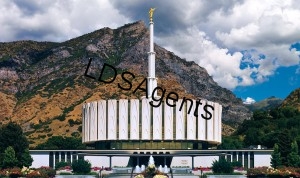 Provo Utah Temple
Provo Utah
Family Friendly
The Orem area is one of the best family vacation destinations offering year-round adventure. Enjoy the natural beauty and diversity of the Rocky Mountains. Hang gliding, world class fly-fishing, skiing, and dinosaur hunting are just a few of the many outdoor adventures in Utah Valley. Utah vacations also incorporate a modern element of resorts and lodging, museums, performing arts, festivals and much more.
Orem is the principal city in the Provo-Orem metropolitan area, which had a population of 526,810 residents at the 2010 census. It is the third-largest metro area in the state behind Salt Lake City and Ogden-Clearfield.