We connect home buyers and sellers with real estate professionals in
Ogden and many other Utah Cities
Ogden, Utah, is a busy town north of Salt Lake City, and is actually the site of the first permanent settlement by people of European descent in the region before the Mormon pioneers arrived. Ogden was a major player in the development of the Transcontinental Railroad, which was completed in 1869. Today, Ogden's visitors enjoy downhill skiing at the Snowbasin and Powder Mountain resorts.
LDS Population
LDS Members make up 60.02% of the population of Ogden. The state of Utah has 1,936,074 members in 558 stakes, 1 district, 4,481 wards, 334 branches, and 6 missions. There are now 17 temples operating or under construction in Utah.
LDS History
Ogden was incorporated as a city in 1851, three years after it was settled. This made it the third incorporated city west of the Missouri River, the first two being San Francisco and Salt Lake City. It was a typical Mormon settled western community of homes and businesses centrally located with farms surrounding the outlying areas. In many respects, pioneer life in Ogden Valley closely resembled that of other communities in early Utah. Everyday life revolved around the agricultural cycle and the Church, and a sense of community and cooperation pervaded most activities.
LDS
REALTORS

Ogden, UT Area
A FREE service connecting you with experienced LDS Real Estate Agents in Ogden and the surrounding area.
As seen on BYU-TV, we understand your family needs and concerns about food storage, ward boundaries, seminary and more. Find an LDS Realtor now!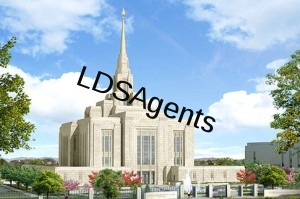 Ogden Utah Temple
Ogden Utah
Family Friendly
Ogden's rich mountain to metro personality derives from a unique balance of vibrant shopping, delicious dining and exciting nightlife with backyard access to year round, heart-pounding outdoor recreation and the majestic beauty of the Wasatch Mountain Range.
The population of Ogden is 82,825. Ogden is a principal city of the Ogden–Clearfield, Utah Metropolitan Statistical Area, which includes all of Weber, Morgan, and Davis counties. The population of that area is 547,184. In 2010, Forbes rated the Ogden-Clearfield MSA as the 6th best place to raise a family.