We connect home buyers and sellers with real estate professionals in
Cedar City and many other Utah Cities
Just a short drive up the canyon is the Cedar Breaks National Monument. Cedar City is the home of Southern Utah University, the Utah Shakespeare Festival, the Utah Summer Games, the Neil Simon Theatre Festival, and other events.
LDS Population
LDS Members make up 69.07% of the population of Cedar City. The state of Utah has 1,936,074 members in 558 stakes, 1 district, 4,481 wards, 334 branches, and 6 missions. There are now 17 temples operating or under construction in Utah.
LDS History
Cedar City was originally settled in late 1851 by Mormon pioneers originating from Parowan, Utah, who were sent to build an iron works. The site, known as "Fort Cedar" or "Cedar City," was equidistant from vast iron deposits 10 miles west and coal resources 10 miles up Cedar Canyon, but was named after the abundant local trees (which are actually Junipers instead of Cedar). Two companies of men led by Henry Lunt reached the fort site in a blizzard on November 11, 1851, making that date the official founding. In 1855, a new site, closer to the iron works and out of the flood plain of Coal Creek, was established at the suggestion of Brigham Young; present day Cedar City is located at this site.
LDS
REALTORS Cedar City, UT

Area
A FREE service connecting you with experienced LDS Real Estate Agents in Cedar City and the surrounding area.
As seen on BYU-TV, we understand your family needs and concerns about food storage, ward boundaries, seminary and more. Find an LDS Realtor now!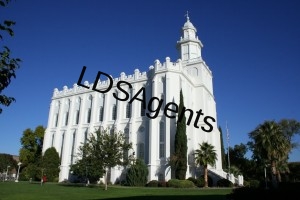 Cedar City Temple
Cedar City Utah (St. George temple pictured above)
Family Friendly
Be sure to take in the magic of the red rock wonders of Cedar Breaks, Kolob Canyons and Bryce Canyon. Celebrate 50 years at the Utah Tony Award winning Utah Shakespeare Festival. Spend time enjoying the unique shops, restaurants, and luxuries of Cedar City.
About 29,213 people call Cedar City home. Cedar City is a city in Iron County, Utah, United States, 250 miles south of Salt Lake City, and 180 miles north of Las Vegas on Interstate 15.