We connect home buyers and sellers with real estate professionals in
The Woodlands and many other Texas Cities
The Woodlands is a sanctuary nestled deep inside a native forest. It is a natural refuge, unique in its beauty, diversity convenience and comfort. Many large corporations, universities and colleges call The Woodlands home.
LDS Population
LDS Members make up 1.21% of the state of Texas' population with 1.37% of population of The Woodlands being LDS.
LDS History
Joseph Smith sent Lucien Woodworth to Austin in 1844 to meet with Sam Houston to negotiate the purchasing of large amounts of land. The negotiations ended with the death of Joseph. In 1845 Lyman Wight, known as "The Wild Ram of the Mountains" led 200 Mormons to Texas. They were attracted to the soon-to-be state for its warmer climate and the prospects of converting American Indians to their religion.
LDS
REALTORS

The Woodlands, TX Area
A FREE service connecting you with experienced LDS Real Estate Agents in The Woodlands, Spring, Conroe, Tomball, Cypress, Pinehurst, New Caney, and other cities.
As seen on BYU-TV, we understand your family needs and concerns about food storage, ward boundaries, seminary and more. Find an LDS Realtor now!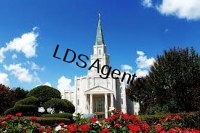 Houston Texas Temple
31 miles S of The Woodlands
Family Friendly
The Woodlands Fosters the best in family life. Winding nature trails, parks, shops and places of worship are carefully arranged in this lively and colorful panorama.
The Woodlands population was 107,769 as of a January 2014 estimate, an increase of 93.7% over its population of 55,649 at the 2000 census.