We connect home buyers and sellers with real estate professionals in
Spring and many other Texas Cities
Spring is part of the Houston-The Woodlands-Sugar Land metropolitan area. While the name "Spring" is applied to a large area of northern Harris County and a smaller area of southern Montgomery County, the original town of Spring is known as Old Town Spring.
LDS Population
LDS Members make up 1.21% of the state of Texas' population with 1.1% of population of Spring being LDS.
LDS History
Joseph Smith sent Lucien Woodworth to Austin in 1844 to meet with Sam Houston to negotiate the purchasing of large amounts of land. The negotiations ended with the death of Joseph. In 1845 Lyman Wight, known as "The Wild Ram of the Mountains" led 200 Mormons to Texas. They were attracted to the soon-to-be state for its warmer climate and the prospects of converting American Indians to their religion.
LDS
REALTORS

Spring, TX Area
A FREE service connecting you with experienced LDS Real Estate Agents in Conroe, Tomball, Cypress, and other cities.
As seen on BYU-TV, we understand your family needs and concerns about food storage, ward boundaries, seminary and more. Find an LDS Realtor now!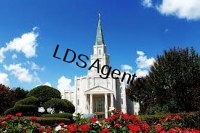 Houston Texas Temple
24 miles S of Spring
Family Friendly
With many festivals throughout the year, a variety of restaurants and open spaces, there is plenty to do in Spring.
Around 54,997 people live in Spring, Texas.