We connect home buyers and sellers with real estate professionals in
San Antonio and many other Texas Cities
Our agents serve many cities in the greater The San Antonio River Walk is a verdant oasis of cypress-lined paved paths, arched stone bridges and lush landscapes. It gently winds through the city center, providing millions of visitors each year with scenic pathways and waterways leading to the city's cultural and historic sites.
LDS Population
LDS Members make up 1.21% of the state of Texas' population with 1.44% of the population of San Antonio being LDS. There are four stakes in San Antonio with a very active LDS community.
LDS History
Starting in the 1920s, permanent congregations of the LDS Church were established in the area as members began building their own "Zion" in South Texas, rather than gather with the Saints in Utah. In 1958, the San Antonio Stake was created, which provided a framework for accelerated growth. In 2005, an LDS temple was dedicated on a prominent hill in the north-side of San Antonio, a lasting monument to the pioneering efforts of the Saints of San Antonio. The Texas San Antonio Mission was originally named Texas South Mission in 1967. It was renamed the Texas San Antonio Mission on June 20, 1974.
LDS
REALTORS

San Antonio, TX Area
A FREE service connecting you with experienced LDS Real Estate Agents in San Antonio, New Braunfels, Canyon Lake, Boerne, San Marcos, Universal City, and other cities.
As seen on BYU-TV, we understand your family needs and concerns about food storage, ward boundaries, seminary and more. Find an LDS Realtor now!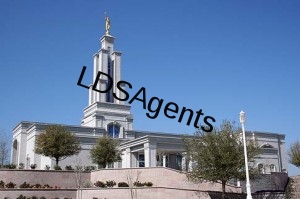 San Antonio Texas Temple
Dedicated May, 2005
Family Friendly
What could be more thrilling than exploring a cave 180 ft. below the earth's surface? Spending the morning with sea lions at SeaWorld San Antonio? What about meeting real live cowboys and sharing a chuck wagon dinner at an 86-acre working ranch? These are special adventures your family will be talking about for years to come.
San Antonio is the second most populous city in the state of Texas with a population of 1.3 million people. Famous for Spanish Missions, the Alamo, the River Walk, the Tower of the Americas, the Alamo Bowl and host to SeaWorld and Six Flags Fiesta Texas theme parks, the city is visited by approximately 26 million tourists per year.