We connect home buyers and sellers with real estate professionals in
Houston and many other Texas Cities
Des Moines was credited with the "number one spot for U.S. insurance companies" in a Business Wire article and dubbed the third largest insurance capital of the world.
LDS Population
LDS Members make up 1.21% of the state of Texas. In Houston, the percentage is 1.10%. There are 3 missions in the Houston area and 17 Stakes.
LDS History
The prophet, Joseph Smith, began negotiations with Sam Houston, President of the Texas Republic in 1844. The first branch in Houston was organized on December 5, 1921. The first official Church-owned meetinghouse was a home willed to the Church by Mrs. Gussie Farmer. This house was quickly remodeled and dedicated on November 19, 1933. The Houston Stake was created on October 11, 1953.
LDS
REALTORS

Houston, TX Area
A FREE service connecting you with experienced LDS Real Estate Agents in Houston, Katy, Sugar Land, Tomball, Spring, Kingwood, Humble. Other cities include Baytown, Pearland, Friendswood, Clear Lake City, League City, Galveston, The Woodlands, Conroe, Beaumont, and other cities.
As seen on BYU-TV, we understand your family needs and concerns about food storage, ward boundaries, seminary and more. Find an LDS Realtor now!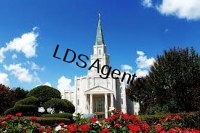 Houston Texas Temple
25 miles NW of Downtown Houston
Family Friendly
Houston is home to many cultural institutions and exhibits. It has an active visual and performing art scene. With all the cultural diversity there is something for everyone in Houston!
The city population of Houston is over 2.1 million people . It is the 4th most populous city in the United States of America and the most populous city in the State of Texas. The median age is 32.2. The Port of Houston is the busiest international port in the United States.