We connect home buyers and sellers with real estate professionals in
Katy and many other Texas Cities
In the mid-1800s Katy was known as Cane Island. Named for the creek that still runs through the area (now a branch of Buffalo Bayou). The creek was filled with cane presumed to have been planted for fur trapping by earlier residents. In the middle of the flat coastal prairie – this 'island' of cane was surrounded by an ocean of tall grass; thus the area became known as Cane Island.
LDS Population
LDS Members make up 1.21% of the state of Texas' population with 1.10% of the population of Katy being LDS.
LDS History
Joseph Smith sent Lucien Woodworth to Austin in 1844 to meet with Sam Houston to negotiate the purchasing of large amounts of land. The negotiations ended with the death of Joseph. In 1845 Lyman Wight, known as "The Wild Ram of the Mountains" led 200 Mormons to Texas. They were attracted to the soon-to-be state for its warmer climate and the prospects of converting American Indians to their religion.
LDS
REALTORS

Katy, TX Area
A FREE service connecting you with experienced LDS Real Estate Agents in Katy, Brookshire, Cinco Ranch, San Filipe, Cypress, and other cities.
As seen on BYU-TV, we understand your family needs and concerns about food storage, ward boundaries, seminary and more. Find an LDS Realtor now!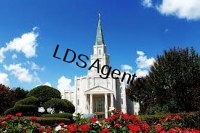 Houston Texas Temple
31 miles E of Katy
Family Friendly
Pleasant weather, exceptional schools and fast access to Houston employers are just a few of the benefits of living in Katy. Take a walking or driving tour of more than a dozen historical homes and buildings in downtown Katy.
City-Data estimates the population in 2012 at 14,661. Katy is within Houston-The Woodlands-Sugar Land metropolitan area. The city is located in Harris, Fort Bend, and Waller counties.