We connect home buyers and sellers with real estate professionals in
El Paso and many other Texas Cities
El Paso blends cultures and traditions: from the historic Old West to the colors of Mexico, from the heritage of Native Americans to the beauty of the Chihuahuan desert.
LDS Population
LDS Members make up 1.57% of the population. El Paso Saints attend the Ciudad Juárez México Temple serves members from 10 stakes and 1 district based in Chihuahua and Far West Texas.
LDS History
In 1876, Daniel W. Jones led a company of missionaries to the El Paso area where they prepared to begin missionary work in Mexico. Towards the end of the 19th century and the beginning of the 20th, a few Latter-day Saint families from the Mormon colonies in Mexico relocated to El Paso and Ciudad Juarez. In July 1912 nearly 3,000 saints fled their homes in Mexico because of a revolution and made their way to El Paso. The first ward in Texas was organized in El Paso on October 11, 1918. It was originally part of the Juarez (Mexico) Stake, but was later transferred to the St. Joseph (Arizona) Stake. The Mexican Mission headquarters was located in El Paso from 1919 to 1929. The El Paso Stake became the first stake in Texas on September 21, 1952.
LDS
REALTORS

El Paso, TX Area
A FREE service connecting you with experienced LDS Real Estate Agents in El Paso, Sunland Park, Fort Bliss, and Anthony, and other cities.
As seen on BYU-TV, we understand your family needs and concerns about food storage, ward boundaries, seminary and more. Find an LDS Realtor now!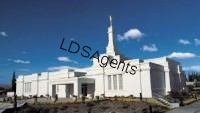 Ciudad Juarez Mexico Temple
3 miles S of El Paso, Texas
Family Friendly
El Paso is the perfect place to enjoy the seamless blending of cultures and customs that is our heritage. From the captivating relics of the historic Old West and the treasured traditions of the Native Americans to the Franklin Mountains resplendent with poppies in ferocious bloom, El Paso is the beginning of a thousand dreams come true.
El Paso has a population of 665,568 people with the median age of 32.5. El Paso is the 19th most populous city in the United States and the sixth most populous city in the state of Texas. El Paso is home to the Universtiy of Texas at El Paso and the Texas Tech University Health Sciences Center at El Paso.