We connect home buyers and sellers with real estate professionals in
Memphis and many other Tennessee Cities
The city of Memphis is located south of the confluence of the Wolf and Mississippi rivers. Memphis is the Birthplace of Rock 'n' Roll, the Home of the Blues and the starting point of soul. Music legends including Elvis Presley, Johnny Cash, B.B. King, W.C. Handy and Otis Redding made their marks on Memphis, where you can hear their influences today.
LDS Population
LDS Members make up 0.64% of the population in Memphis. In the state of Tennessee there are 43,179 members, 10 stakes, 68 wards and 24 branches, 2 missions, and 2 temples.
LDS History
David W. Patten and Warren Parish arrived in Tennessee shortly before 11 October 1834 and soon baptized 31 people: organizing a branch by the end of the year. On March 27, 1835, Wilford Woodruff, then a priest, came to assist Parrish. When Warren Parrish was called as a Seventy in July 1835, he ordained Woodruff as an elder and placed him in charge of the work in Tennessee. The worst massacre of Church members in the South, however, occurred on August 10, 1884 when a mob shot to death missionaries William S. Berry and John H. Gibbs and local members W. Martin Conder and John Riley Hutson during LDS Church services.
LDS
REALTORS

Memphis, TN Area
A FREE service connecting you with experienced LDS Real Estate Agents in Memphis, Germantown, West Memphis, Bartlett, Collierville, Southhaven, Olive Branch, and the surrounding area.
As seen on BYU-TV, we understand your family needs and concerns about food storage, ward boundaries, seminary and more. Find an LDS Realtor now!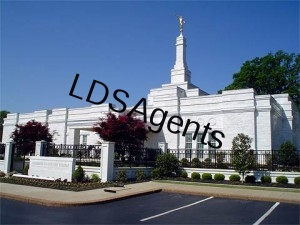 Memphis Tennesee Temple
13 miles NE of Memphis in Bartlett TN
Family Friendly
In Memphis you've got your pick of performing arts and museums in Memphis. On stage, Broadway shows stop here on national tours – often at the historic Orpheum Theatre – and the city has its own professional resident theater. It's also home to a nationally acclaimed professional ballet company, opera and symphony orchestra. At the historic Cotton Museum you'll hear the dynamic story of the plant that built the Bluff City. Learn how "King Cotton" influenced the cultural fabric of the Mid-South and shaped the city of Memphis.
Memphis had a population of 655,155 in 2012 making it the largest city in the state of Tennessee, the largest city on the Mississippi River, the third largest in the Southeastern United States, and the 20th largest in the United States. The greater Memphis metropolitan area, including adjacent counties in Mississippi and Arkansas, had a 2010 population of 1,316,100.