We connect home buyers and sellers with real estate professionals in
Spartanburg and many other South Carolina Cities
Spartanburg, South Carolina
Spartanburg's downtown commercial district has been revitalized. This has resulted in a remodeling of Morgan Square, the restoration of a number of historic structures and the relocation of several businesses and company headquarters to the downtown vicinity. Spartanburg is a college town, with eight institutions of higher learning. Spartanburg is host to the NFL's Carolina Panthers training camp each year on the campus of Wofford College.
LDS Population
LDS Members make up 0.92% of the population of Spartanburg. The state of South Carolina has 36,141 members in 6 stakes, 46 wards, 14 branches, 1 mission, and 1 temple in Columbia.
LDS History
The first LDS member in South Carolina is believed to be Emmanual Masters Murphy, who was baptized in Tennessee in 1836. The South Carolina Conference was organized on March 31, 1882. Some of the earliest branches were established at King's Mountains beginning March 3, 1882, and among the Catawba Indian community beginning July 31, 1885. Conference headquarters were established at the plantation of John Black, a man who remained unbaptized in order to provide refuge for the Church. Many converts, including Indians, moved onto his plantation to escape persecution. The Catawbas also shielded missionaries from persecutions. Most of the Catawbas joined the Church and remained faithful in South Carolina.
LDS
REALTORS

Spartanburg, SC Area
A FREE service connecting you with experienced LDS Real Estate Agents in Spartanburg, Greenville, and the surrounding area.
As seen on BYU-TV, we understand your family needs and concerns about food storage, ward boundaries, seminary and more. Find an LDS Realtor now!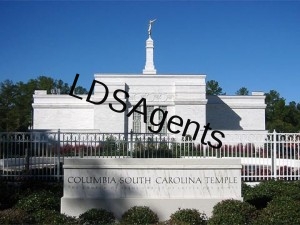 Columbia SC Temple
120 miles SE of Greenville
Family Friendly
Downtown commemorates Daniel Morgan, who helped turn the tide of the Revolutionary War. Along the Square, you'll find shops, restaurants, bars, and public art that will have you thinking big city. But when you talk with the people, you'll realize you've found small town friendly. Art, culture and music all have a home here. Plus the lakes, rivers and parks beg to be explored.
Spartanburg has a municipal population of 37,013 and an urban population of 180,786. Spartanburg is the second-largest city in the greater Greenville-Spartanburg-Anderson Combined Statistical Area which had a population of 1,266,995 at the 2010 census. It is part of a 10-county region of northwestern South Carolina known as "The Upstate."