We connect home buyers and sellers with real estate professionals in
Columbia and many other South Carolina Cities
Columbia is the state capital and largest city in the State of South Carolina. The city lies at the confluence of two rivers, the Saluda and the Broad, which merge at Columbia to form the Congaree River, which is popular with paddlers and kayakers in the area. The state's flagship and largest university, the University of South Carolina, is located in Columbia. Historically, the city was the location of the South Carolina Secession Convention, which marked the departure of the first state from the Union in the events leading up to the Civil War.
LDS Population
LDS Members make up 1.09% of the population of Columbia. The state of South Carolina has 36,141 members in 6 stakes, 46 wards, 14 branches, 1 mission, and 1 temple in Columbia.
LDS History
The first LDS member in South Carolina is believed to be Emmanual Masters Murphy, who was baptized in Tennessee in 1836. The South Carolina Conference was organized on March 31, 1882. Some of the earliest branches were established at King's Mountains beginning March 3, 1882, and among the Catawba Indian community beginning July 31, 1885. Conference headquarters were established at the plantation of John Black, a man who remained unbaptized in order to provide refuge for the Church. Many converts, including Indians, moved onto his plantation to escape persecution. The Catawbas also shielded missionaries from persecutions. Most of the Catawbas joined the Church and remained faithful in South Carolina.
LDS
REALTORS

Columbia, SC Area
A FREE service connecting you with experienced LDS Real Estate Agents in Columbia and the surrounding area.
As seen on BYU-TV, we understand your family needs and concerns about food storage, ward boundaries, seminary and more. Find an LDS Realtor now!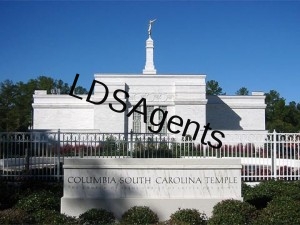 Columbia SC Temple
12 miles SE of Columbia in Hopkins
Family Friendly
Columbia has a really great zoo, several great museums including a children's museum, a railroad museum, an art museum and the state museum that always has fun exhibits. There's an inexpensive water park on Ft Jackson. If you like outdoor activities you can kayak and canoe down the Broad, Bush and Saluda Rivers. There are a few boats that offer tours and cruises around Lake Murray and don't miss the Congaree National Park that is absolutely breathtaking.
About 131,686 call Columbia home. Columbia is the county seat of Richland County, but a portion of the city extends into neighboring Lexington County. The city is the center of a metropolitan statistical area of 784,745, the second-largest within the state. The name "Columbia" was a poetic term for the Americas derived from Christopher Columbus.