We connect home buyers and sellers with real estate professionals in
Charleston and many other South Carolina Cities
Charleston, South Carolina
Known for its rich history, well-preserved architecture, distinguished restaurants, and mannerly people, Charleston has received a large number of accolades, including "America's Most Friendly City" by Travel + Leisure in 2011 and in 2013 by Condé Nast Traveler, and also "the most polite and hospitable city in America" by Southern Living magazine.
LDS Population
LDS Members make up 1.23%% of the population of Charleston. The state of South Carolina has 36,141 members in 6 stakes, 46 wards, 14 branches, 1 mission, and 1 temple in Columbia.
LDS History
The first LDS member in South Carolina is believed to be Emmanual Masters Murphy, who was baptized in Tennessee in 1836. The South Carolina Conference was organized on March 31, 1882. Some of the earliest branches were established at King's Mountains beginning March 3, 1882, and among the Catawba Indian community beginning July 31, 1885. Conference headquarters were established at the plantation of John Black, a man who remained unbaptized in order to provide refuge for the Church. Many converts, including Indians, moved onto his plantation to escape persecution. The Catawbas also shielded missionaries from persecutions. Most of the Catawbas joined the Church and remained faithful in South Carolina.
LDS
REALTORS

Charleston, SC Area
A FREE service connecting you with experienced LDS Real Estate Agents in Charleston, Summerville, Goose Creek, and the surrounding areas.
As seen on BYU-TV, we understand your family needs and concerns about food storage, ward boundaries, seminary and more. Find an LDS Realtor now!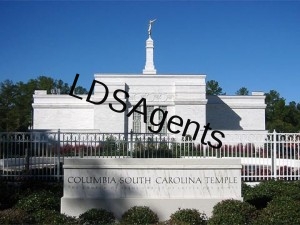 Columbia SC Temple
113 miles NW of Charleston
Family Friendly
Famous golf courses, top-rated tennis courts, pristine beaches, monumental battleships and beautifully preserved architecture barely scratches the surface of attractions in Charleston. You can be as adventurous or as tame as you like. Best of all, the mild climate means you can enjoy most of the sights year-round.
With a population of 125,583, current trends put Charleston as the fastest-growing municipality in South Carolina. The Charleston Metropolitan area population was counted by the 2012 estimate at 697,439 – the second largest in the state – and the 78th-largest metropolitan statistical area in the United States.