We connect home buyers and sellers with real estate professionals in
Philadelphia and many other Pennsylvania Cities
Philadelphia, Pennsylvania
In 1682, William Penn founded the city to serve as capital of Pennsylvania Colony. By the 1750s, Philadelphia had surpassed Boston to become the largest city and busiest port in British America, and second in the British Empire, behind London. Philadelphia was one of the nation's capitals during the Revolutionary War, and the city served as the temporary U.S. capital while Washington, D.C., was under construction. Popular nicknames for Philadelphia are Philly and The City of Brotherly Love, the latter of which comes from the literal meaning of the city's name in Greek.
LDS Population
LDS Members make up 0.45% of the population of Philadelphia. The state of Pennsylvania has 49,743 members in 10 stakes, 1 district, 75 wards, 39 branches, and 2 missions and one temple in Philadelphia expected to be completed in 2016.
LDS History
Pennsylvania was the site of some of the most transcendent events of the early Restoration. Joseph Smith and his wife Emma spent most of the time between December 1827 and August 1830 living in Harmony (present-day Oakland). While there the Prophet translated the bulk of the Book of Mormon, with Emma, Martin Harris, and Oliver Cowdery as scribes. On 15 May 1829, Joseph and Oliver were ordained to the Aaronic Priesthood by John the Baptist on the banks of the Susquehanna River, after which he directed the two to immerse each other in the first authorized baptisms of this dispensation. Shortly thereafter, Peter, James, and John appeared to Joseph and Oliver in the same vicinity and conferred upon them the Melchizedek Priesthood. In addition, 15 of the revelations in the Doctrine and Covenants were received while the Smiths lived in Harmony.
LDS
REALTORS

Philadelphia, PA Area
A FREE service connecting you with experienced LDS Real Estate Agents in Philadelphia, Warrington, Blue Bell, Drexel Hill, Perkasie, West Chester, Collegeville, Norristown and the surrounding areas.
As seen on BYU-TV, we understand your family needs and concerns about food storage, ward boundaries, seminary and more. Find an LDS Realtor now!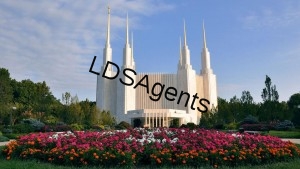 Washington DC Temple
Washington DC
Family Friendly
The Philadelphia region is a family kind of town, where there is plenty of history and horticulture, art and animals, gardens and galleries, tours and theme parks come together to offer loads of family fun.
As of the 2010 Census, the city had a population of 1,526,006, growing to 1,547,607 in 2012 by Census estimates. Philadelphia is the economic and cultural center of the Delaware Valley, home to over 6 million people and the country's sixth-largest metropolitan area.