We connect home buyers and sellers with real estate professionals in
Portland and many other Oregon Cities
The Willamette River runs through the center of the city, while Mount Tabor rises on the city's east side. Mount Saint Helens and Mount Hood are visible from many places in the city.
LDS Population
LDS Members make up 2.3% of the population in Portland. There are 149,089 members in 36 stakes, 253 wards, 50 branches, 3 missions, and 2 temples in Oregon.
LDS History
A chapel was built in Portland in 1929, ready for an open house on February 15-17, 1929. The building carried the architectural scheme of an old English manor, being constructed of dense lava stone and bricks of the clinker type, and is declared particularly suited to western Oregon climate and surroundings. It included a maternity room and a basement with 14 classrooms. The architect was C. R. Kaufman, and construction had begun on August 1, 1928.
LDS
REALTORS

Portland, OR Area
A FREE service connecting you with experienced LDS Real Estate Agents in Portland, Beaverton, Hillsboro, Tigard, Tualatin, Oswego, Greshan, and greater Vancouver area as well.
As seen on BYU-TV, we understand your family needs and concerns about food storage, ward boundaries, seminary and more. Find an LDS Realtor now!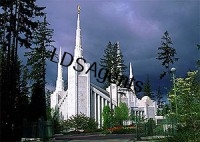 Portland Oregon Temple
20 minutes S. of Portland
Family Friendly
You'll love all things Portland. Each season offers it's own unique fun, adventure and beauty. Whether you are on the streets of Portland or the trials you'll find a wide range of activities, museums and attractions for everyone!
Portland has a population of 587,865 making it Oregon's most populous city. Portland is located near the confluence of the Willamette and Columbia rivers. Because of its public transportation networks and efficient land-use planning, Portland has been referred to as one of the most environmentally friendly, or "green", cities in the world.