We connect home buyers and sellers with real estate professionals in
Eugene and many other Oregon Cities
Eugene is home to the University of Oregon. The city is also noted for its natural beauty, recreational opportunities especially bicycling, running/jogging, rafting, kayaking, and focus on the arts. Eugene's slogan is "A Great City for the Arts and Outdoors" It is also referred to as the "Emerald City", and as "Track Town, USA". The Nike corporation had its beginnings in Eugene.
LDS Population
LDS Members make up 3.70% of the population in Eugene. There are 149,089 members in 36 stakes, 253 wards, 50 branches, 3 missions, and 2 temples in Oregon.
LDS History
A chapel was built in Portland in 1929, ready for an open house on February 15-17, 1929. The building carried the architectural scheme of an old English manor, being constructed of dense lava stone and bricks of the clinker type, and is declared particularly suited to western Oregon climate and surroundings. It included a maternity room and a basement with 14 classrooms. The architect was C. R. Kaufman, and construction had begun on August 1, 1928.
LDS
REALTORS

Eugene, OR Area
A FREE service connecting you with experienced LDS Real Estate Agents in Eugene and the surrounding are.
As seen on BYU-TV, we understand your family needs and concerns about food storage, ward boundaries, seminary and more. Find an LDS Realtor now!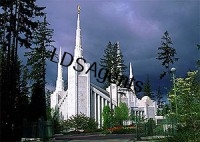 Portland Oregon Temple
110 miles N of Eugene
Family Friendly
Home to the University of Oregon, anything goes in this city of Birkenstocks and Manolo Blahniks. This juxtaposition of rural town charm and urban sophistication is evident in the city's attractions, which range from naturally beautiful parks and walking trails to the prestigious Asian art collection at the University's Museum of Art. In between, there are plenty of trendy shops, delicious restaurants and top-notch entertainment venues to check out. Don't miss the Nike Store!
Eugene's population was estimated by the Portland Research Center to be 159,580 in 2013. Lane County has a population of 351,715. Eugene has long been the second-largest city in Oregon. The Eugene-Springfield, Oregon MSA is the 144th largest metropolitan statistical area of the U.S., and the third-largest in the state.