We connect home buyers and sellers with real estate professionals in
Dayton and many other Ohio Cities
Dayton plays host to significant research and development in fields like industrial, aeronautical, and astronautical engineering that have led to many technological innovations. Dayton is noted for its association with aviation; the city is home to the National Museum of the United States Air Force. Orville Wright, poet Paul Laurence Dunbar, and entrepreneur John H. Patterson were born in Dayton. Dayton is also known for its many patents, inventions, and inventors that have come from the area, most notable being the Wright brothers' invention of powered flight.
LDS Population
LDS Members make up 0.74% of the population of Dayton. The state of Ohio has 58,436 members in 11 stakes, 96 wards and 32 branches, 2 missions, and 1 temple.
LDS History
In December 1830, Joseph Smith received a revelation instructing the Church to gather in Ohio (D&C 37). He traveled to Kirtland in February where he and his wife Emma lived for a time with Newel K. Whitney. Kirtland served as Church headquarters from 1831 to 1838. The first stake of the Church was created there in 1834. Sixty-five of the revelations published in the Doctrine and Covenants were received in Ohio. The growing number of Latter-day Saints, especially in Ohio and Missouri, also led to important organizational developments in the Church. The First Presidency was organized in Kirtland in March 1832, followed by the Kirtland High Council, February 1834; the Quorum of the Twelve Apostles, February 1835; and the First Council of the Seventy, also in February 1835.
LDS
REALTORS

Dayton, OH Area
A FREE service connecting you with experienced LDS Real Estate Agents in Dayton and the surrounding area.
As seen on BYU-TV, we understand your family needs and concerns about food storage, ward boundaries, seminary and more. Find an LDS Realtor now!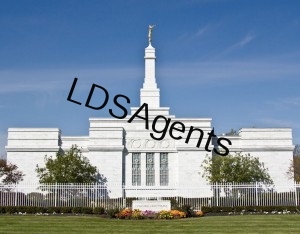 Columbus Ohio Temple
68 miles E of Dayton
Family Friendly
Dayton is home to the Wright Brothers, the Dayton Aviation Heritage National Historical Park, the Wright family mansion Hawthorn Hill, the National Museum of the U.S. Air Force and Wright Patterson Air Force Base. Dayton offers world-class attractions, diverse accommodations, fantastic arts and culture performances, beautiful parks with bike and recreation trails, a variety of sporting venues and events, plus fabulous shopping and dining.
Dayton is the sixth largest city in the U.S. state of Ohio and is the county seat of Montgomery County. In the 2010 census, the population was 141,527 and the Dayton metropolitan area had 841,502 residents, making it the fourth largest metropolitan area in Ohio.