We connect home buyers and sellers with real estate professionals in
Columbus and many other Ohio Cities
Named for explorer Christopher Columbus, the city was founded in 1812 at the confluence of the Scioto and Olentangy rivers, and assumed the functions of state capital in 1816. Columbus is home to the world's largest private research and development foundation, the Battelle Memorial Institute; Chemical Abstracts Service, the world's largest clearinghouse of chemical information; NetJets, the world's largest fractional ownership jet aircraft fleet; and The Ohio State University, one of the largest college campuses in the United States.
LDS Population
LDS Members make up 0.73% of the population of Columbus. The state of Ohio has 58,436 members in 11 stakes, 96 wards and 32 branches, 2 missions, and 1 temple.
LDS History
In December 1830, Joseph Smith received a revelation instructing the Church to gather in Ohio (D&C 37). He traveled to Kirtland in February where he and his wife Emma lived for a time with Newel K. Whitney. Kirtland served as Church headquarters from 1831 to 1838. The first stake of the Church was created there in 1834. Sixty-five of the revelations published in the Doctrine and Covenants were received in Ohio. The growing number of Latter-day Saints, especially in Ohio and Missouri, also led to important organizational developments in the Church. The First Presidency was organized in Kirtland in March 1832, followed by the Kirtland High Council, February 1834; the Quorum of the Twelve Apostles, February 1835; and the First Council of the Seventy, also in February 1835.
LDS
REALTORS

Columbus, OH Area
A FREE service connecting you with experienced LDS Real Estate Agents in Des Moines, Ames and the surrounding area.
As seen on BYU-TV, we understand your family needs and concerns about food storage, ward boundaries, seminary and more. Find an LDS Realtor now!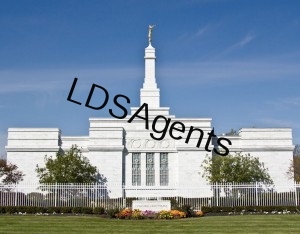 Columbus Ohio Temple
Columbus Ohio
Family Friendly
Columbus is a great place for families with top-rated attractions, children's theater, lots of parks and recreational activities, and more. Everyone will have a blast at Columbus' attractions. You'll find everything from the #1 zoo and #1 science center to galleries, spas and entertainment districts.
The population of Columbus is 787,033 making it the most populous city in Ohio. Although Columbus was the 15th largest city in the United States, its metropolitan area was 28th largest, with 2,308,509 residents. It is the fourth most populous state capital in the United States.