We connect home buyers and sellers with real estate professionals in
Wilmington and many other North Carolina Cities
Wilmington, North Carolina
The charming city of Wilmington NC, also known as the Port City, is located in the southeastern corner of North Carolina between the Cape Fear River and the Atlantic Ocean. It is home to the University of North Carolina at Wilmington. It is also home to a regional visual and performing arts center, a regional medical center and to Screen Gems Studios – North Carolina, one of the largest motion picture and television studios outside of Hollywood.
LDS Population
LDS Members make up 0.90% of the population of Wilmington. The state of North Carolina has 71,737 members in 15 stakes, 102 wards, 42 branches, 2 missions, and 1 temple in Raleigh.
LDS History
The first known missionary to enter North Carolina was Jedediah M. Grant. On 18 May 1838, he reported that he had preached for six months. On 12 July 1845, he had organized a conference of 200 members in seven branches. Little work was done in North Carolina until March 1868 when a Southern convert, Henry G. Boyle, reported that he had held 40 public meetings, baptized 30 members and organized the Surrey County Branch. The Southern States Mission was created on 9 October 1876 to include North Carolina. Anti-Mormon sentiment in North Carolina was occasionally strong. On 16 January 1906, a newly completed meetinghouse on Harker's Island was burned, and the missionaries were driven out by a mob but after the turn of the century, public attitudes generally improved and missionaries were offered more freedom to preach.
LDS
REALTORS

Wilmington, NC Area
A FREE service connecting you with experienced LDS Real Estate Agents in Wilmington and the surrounding area.
As seen on BYU-TV, we understand your family needs and concerns about food storage, ward boundaries, seminary and more. Find an LDS Realtor now!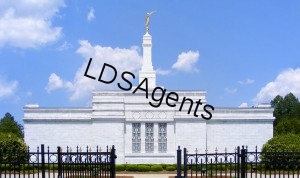 Raleigh NC Temple
131 miles NW of Wilmington
Family Friendly
Wilmington is a popular destination because of its moderate, four-season climate, historic preservation district, annual events such as Wilmington Riverfest and the Azalea Festival and numerous championship golf courses. In addition, the nearby Wrightsville, Carolina and Kure Beaches are a mecca for boaters, surfers, sunbathers, beachcombers and seafood lovers and round out the wide variety of attractions in the Wilmington, NC area.
The population of Wilmington is 106,476 and it is the eighth most populous city in the state. Wilmington is the principal city of the Wilmington Metropolitan Statistical Area, which has a population of 263,429 as of the 2012 Census Estimate.