We connect home buyers and sellers with real estate professionals in
Raleigh and many other North Carolina Cities
Raleigh is the capital city of North Carolina and is often termed the "City of Oaks" for its vast amount of oak trees. Raleigh is best known for its live concerts, museums, retail centers, and North Carolina State University. The African American history of the South has paved the way for over 50 cultural sites in Raleigh.
LDS Population
LDS Members make up 0.99% of the population of Raleigh. The state of North Carolina has 71,737 members in 15 stakes, 102 wards, 42 branches, 2 missions, and 1 temple in Raleigh.
LDS History
The first known missionary to enter North Carolina was Jedediah M. Grant. On 18 May 1838, he reported that he had preached for six months. On 12 July 1845, he had organized a conference of 200 members in seven branches. Little work was done in North Carolina until March 1868 when a Southern convert, Henry G. Boyle, reported that he had held 40 public meetings, baptized 30 members and organized the Surrey County Branch. The Southern States Mission was created on 9 October 1876 to include North Carolina. Anti-Mormon sentiment in North Carolina was occasionally strong. On 16 January 1906, a newly completed meetinghouse on Harker's Island was burned, and the missionaries were driven out by a mob but after the turn of the century, public attitudes generally improved and missionaries were offered more freedom to preach.
LDS
REALTORS

Raleigh, NC Area
A FREE service connecting you with experienced LDS Real Estate Agents in Raleigh, Durham, Cary, Chapel Hill, Wake Forest, New Hope, Holly Spring, Apex, Sanford, Selma, and the surrounding areas.
As seen on BYU-TV, we understand your family needs and concerns about food storage, ward boundaries, seminary and more. Find an LDS Realtor now!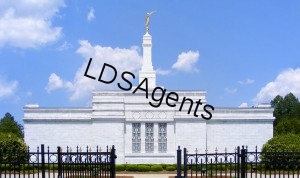 Raleigh NC Temple
15 miles W of Raleigh in Apex
Family Friendly
Discover rich history and science through intriguing, state-of-the-art exhibits in Raleigh, N.C. Having been called the "Smithsonian of the South," Raleigh is known for having an abundance of free museums, historic attractions and educational institutions.
Raleigh has a population of 423,179 and over an area of 142.8 square miles making Raleigh currently the 42nd most populous city in the United States. It is also one of the fastest-growing cities in the country. The city of Raleigh is named after Sir Walter Raleigh, who established the lost Roanoke Colony on Roanoke Island.