We connect home buyers and sellers with real estate professionals in
Farmington and many other New Mexico Cities
Farmington is located at the junction of the San Juan River, the Animas River, and the La Plata River, and is located on the Colorado Plateau. The primary industries of San Juan County are in the mining of petroleum, natural gas, and coal. Farmington is known across New Mexico and throughout the southwest for its baseball tournaments, and the Ricketts Ball Park is the home of the Connie Mack World Series. Farmington High School claimed the AAAA Baseball State Championship four years in a row from 2005 through 2008.
LDS Population
LDS Members make up 11.40% of the population of Farmington. The state of New Mexico has reported 63,987 members in 14 stakes, 89 wards, 39 branches, 1 mission, and 1 temple.
LDS History
Mormons first came to New Mexico in 1846. The LDS Church has traditionally had a strong presence in the Four Corners Region of New Mexico, settling the town of Kirtland and other surrounding areas. Mormons found converts among the Zuni Indians. On March 7, 1943, the Navajo-Zuni Mission was organized, and specialized with teaching Native Americans in their language. This was renamed the Southwest Indian Mission on January 1, 1949. It was renamed the New Mexico-Arizona Mission on October 10, 1972. New Mexico became its own mission when the New Mexico Albuquerque Mission was organized on December 15, 1896.
LDS
REALTORS

Farmington, NM Area
A FREE service connecting you with experienced LDS Real Estate Agents in Albuquerque and the surrounding area.
As seen on BYU-TV, we understand your family needs and concerns about food storage, ward boundaries, seminary and more. Find an LDS Realtor now!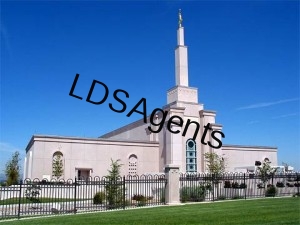 Albuquerque New Mexico Temple
180 miles SE of Farmington
Family Friendly
Farmington is the ultimate location for explorers, history buffs and nature lovers alike. Immersed in scenery photographers dream of, the Four Corners region is rich with Native American history, National Parks and UNESCO World Heritage Sites. Hike and explore unique landscapes like the Bisti Badlands, fly fish the world-class Quality Waters along the San Juan River or test your skills at nationally ranked Pinon Hills Golf Course.
Farmington makes up one of the four Metropolitan Statistical Areas in New Mexico. The U.S. Census Bureau's population estimate in 2011 for Farmington was about 45,256. Farmington is the largest City of San Juan County, one of the geographically largest counties in the United States covering 5,538 square miles.