We connect home buyers and sellers with real estate professionals in
Albuquerque and many other New Mexico Cities
The Albuquerque International Balloon Fiesta®, the world's largest hot air balloon festival, takes place each October, when you'll see hundreds of balloons in the sky at a time. This magical hot air balloon festival is considered to be the most photographed event in the world, drawing a huge international crowd of balloonists and spectators. Albuquerque is home to the University of New Mexico, Presbyterian Health Services, Kirtland Air Force Base, Sandia National Laboratories, Lovelace Respiratory Research Institute, and Petroglyph National Monument. The Sandia Mountains run along the eastern side of Albuquerque, and the Rio Grande flows through the city, north to south.
LDS Population
LDS Members make up 2.15% of the population of Albuquerque. The state of New Mexico has reported 63,987 members in 14 stakes, 89 wards, 39 branches, 1 mission, and 1 temple.
LDS History
LDS Members first came to New Mexico in 1846. The LDS Church has traditionally had a strong presence in the Four Corners Region of New Mexico, settling the town of Kirtland and other surrounding areas. Mormons found converts among the Zuni Indians. On March 7, 1943, the Navajo-Zuni Mission was organized, and specialized with teaching Native Americans in their language. This was renamed the Southwest Indian Mission on January 1, 1949. It was renamed the New Mexico-Arizona Mission on October 10, 1972. New Mexico became its own mission when the New Mexico Albuquerque Mission was organized on December 15, 1896.
LDS
REALTORS

Albuquerque, NM Area
A FREE service connecting you with experienced LDS Real Estate Agents in Albuquerque and the surrounding area.
As seen on BYU-TV, we understand your family needs and concerns about food storage, ward boundaries, seminary and more. Find an LDS Realtor now!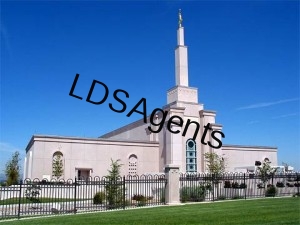 Albuquerque New Mexico Temple
Albuquerque New Mexico
Family Friendly
There are a variety of things to do in Albuquerque. Whether you're visiting one of our 14 beautiful golf courses, taking a hot air balloon flight over the scenic Rio Grande Valley, mountain biking in the Sandia Mountains, hiking among dormant volcanoes, horseback riding along the river or strolling through Old Town, you'll find Albuquerque offers a real breath of fresh air. During any given week you'll be able to choose from cultural festivals, art exhibits, craft fairs, theater performances, sporting events and more.
Albuquerque is the most populous city in New Mexico. It is the county seat of Bernalillo County, and it is situated in the central part of the state, straddling the Rio Grande. The city population is 555,417 and ranks as the 32nd-largest city in the U.S. It has a 2012 estimated metropolitan population of 901,700 according to the US Census.