We connect home buyers and sellers with real estate professionals in
Missoula and many other Montana Cities
Missoula is located along the Clark Fork River near its confluence with the Bitterroot River in western Montana and at the convergence of five mountain ranges, thus is often described as the "Hub of Five Valleys". Missoula is home to the University of Montana, a public research university.
LDS Population
LDS Members make up 4.46% of the population of Missoula. In the state of Montana there are 46,484 members in 11 stakes, 78 wards, 42 branches, 1 mission, and 1 temple in Billings.
LDS History
In 1856, Utah Church member E. W. VanEtten began hauling freight between Salt Lake City and mining and logging camps in Montana. That same year, Minnie Miller, another Latter-day Saint, moved to Jocko, Mont., with her husband to help manage the Indian Agency there. After gold was discovered in Montana in 1862, increasing demand for food and supplies in the mining towns drew other Latter-day Saints into the freighting business along the "Montana Trail" between that territory and Utah. During the last few decades of the 19th century, small numbers of Church members moved into Montana, seeking work in the mines and on the ranches.
LDS
REALTORS

Missoula, MT Area
A FREE service connecting you with experienced LDS Real Estate Agents in Missoula and the surrounding area.
As seen on BYU-TV, we understand your family needs and concerns about food storage, ward boundaries, seminary and more. Find an LDS Realtor now!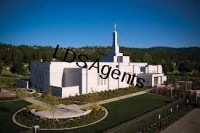 Spokane Washington Temple
199 miles NW of Missoula
Family Friendly
Missoula, the "Garden City" is known as the state's cultural center. There are countless activities, events and historical places to explore. Missoula stays active year round with events, outdoor activities, and an abundance of city parks to help chase away the creeping cabin-fever.
The United States Census Bureau estimated the city's population at 68,394 and the population of the Missoula Metropolitan Area at 110,977 as of July 1, 2012. Since 2000, Missoula has been the second most populous city in Montana.