We connect home buyers and sellers with real estate professionals in
Kalispell and many other Montana Cities
Kalispell is a dynamic community located within a thirty-minute drive of Flathead Lake, Whitefish Mountain Ski Resort, Glacier National Park, several National and State forests and parks, and the Bob Marshall Wilderness area.
LDS Population
LDS Members make up 4.41% of the population of Kalispell. In the state of Montana there are 46,484 members in 11 stakes, 78 wards, 42 branches, 1 mission, and 1 temple in Billings.
LDS History
In 1856, Utah Church member E. W. VanEtten began hauling freight between Salt Lake City and mining and logging camps in Montana. That same year, Minnie Miller, another Latter-day Saint, moved to Jocko, Mont., with her husband to help manage the Indian Agency there. After gold was discovered in Montana in 1862, increasing demand for food and supplies in the mining towns drew other Latter-day Saints into the freighting business along the "Montana Trail" between that territory and Utah. During the last few decades of the 19th century, small numbers of Church members moved into Montana, seeking work in the mines and on the ranches.
LDS
REALTORS

Kalispell, MT Area
A FREE service connecting you with experienced LDS Real Estate Agents in Kalispell and the surrounding area.
As seen on BYU-TV, we understand your family needs and concerns about food storage, ward boundaries, seminary and more. Find an LDS Realtor now!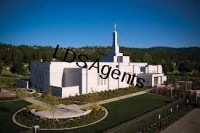 Spokane Washington Temple
237 miles W of Kalispell
Family Friendly
Kalispell is the historical hub of the valley offering residents and visitors a glimpse of the past with the Conrad Mansion and Central School Museum. Art lovers can visit the Hockaday Museum of Art or any of the many galleries located in downtown Kalispell. Concerts, farmers markets, art fairs, and festivals flourish in Downtown Kalispell.
The 2011 Census estimates put Kalispell's population at 20,008. The Kalispell Micropolitan Statistical Area has a population of 91,633 and it is the largest city and commercial center of northwest Montana. The name Kalispell is a Salish word meaning "flat land above the lake". Kalispell is also the gateway to Glacier National Park.