We connect home buyers and sellers with real estate professionals in
Billings and many other Montana Cities
This is the land where General Custer fought the Sioux and Cheyenne, where Sitting Bull and Crazy Horse led their people through struggles and to victories, where William Clark left his signature as the Lewis & Clark Expedition passed through and where Calamity Jane raised a ruckus.
LDS Population
LDS Members make up 5.00% of the population of Billings. In the state of Montana there are 46,484 members in 11 stakes, 78 wards, 42 branches, 1 mission, and 1 temple in Billings.
LDS History
In 1856, Utah Church member E. W. VanEtten began hauling freight between Salt Lake City and mining and logging camps in Montana. That same year, Minnie Miller, another Latter-day Saint, moved to Jocko, Mont., with her husband to help manage the Indian Agency there. After gold was discovered in Montana in 1862, increasing demand for food and supplies in the mining towns drew other Latter-day Saints into the freighting business along the "Montana Trail" between that territory and Utah. During the last few decades of the 19th century, small numbers of Church members moved into Montana, seeking work in the mines and on the ranches.
LDS
REALTORS

Billings, MT Area
A FREE service connecting you with experienced LDS Real Estate Agents in Billings and the surrounding area.
As seen on BYU-TV, we understand your family needs and concerns about food storage, ward boundaries, seminary and more. Find an LDS Realtor now!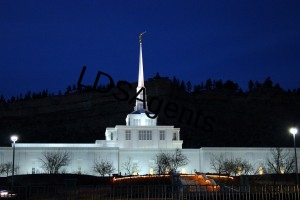 Billings Montana Temple
Billings Montana
Family Friendly
If you yearn for outdoor adventure, Billings provides nearly limitless opportunities thanks to our pristine lands, scenic beauty, and rugged, rustic charm. If you're interested in cultural events, Billings will astound you with its impressive selection of music, theater, museums and dining. Whatever you're looking for, you'll find it in Billings, Montana's Trailhead.
About 104,170 people call Billings home. It is the largest city in the US state of Montana, and is the principal city of the Billings Metropolitan Area with a population of 162,848. It has a trade area of over half a million people. Billings is located in the south-central portion of the state and is the county seat of Yellowstone County, which had a 2012 population of 151,882.