We connect home buyers and sellers with real estate professionals in Davenport and many other Iowa Cities.
Geographically defined by the unusual path of the Mississippi River, Davenport is the only place where the Mississippi runs from east to west. There are two main universities: Saint Ambrose University and Palmer College of Chiropractic, which is where the first chiropractic adjustment took place..
LDS Population
LDS Members make up 0.84% of the population of Davenport. The state of Iowa has 24,614 members in 7 stakes, 37 wards, 32 branches, and 1 mission.
LDS History
Emigrating saints reached the eastern bluffs of the Missouri River on 14 June 1846 and established Kanesville, later called Council Bluffs. It was there on 13 July 1846 that nearly 500 men from the "Camp of Israel" were mustered in for military service into the Mormon Battalion. At Kanesville Oliver Cowdery helped establish the restored gospel. Iowa remained in the Northern States Mission until 1960 when it was transferred to the Central States Mission. The first permanent stake in Iowa, the Cedar Rapids Stake, was created in 1966. The Des Moines Stake followed in 1970. For a short time, Iowa became part of the Missouri Independence Mission, until it was reassigned to the Iowa Des Moines Mission in 1976.
LDS
REALTORS

Davenport, IA Area
A FREE service connecting you with experienced LDS Real Estate Agents in Davenport and the surrounding area.
As seen on BYU-TV, we understand your family needs and concerns about food storage, ward boundaries, seminary and more. Find an LDS Realtor now!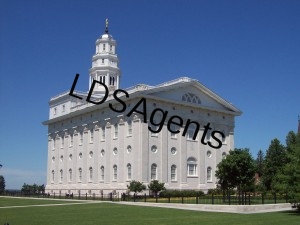 Nauvoo Illinois Temple
105 miles SW of Davenport
Family Friendly
Take a cruise on the upper Mississippi's largest non-gaming riverboat. Newly renovated, the Family Museum offers many great activities for children young and old. Visit Fox Hollow, a fully-functioning town square, or the new interactive water table.
About 99,685 people call Davenport home. Davenport is located along the Mississippi River in Scott County, Iowa. Located approximately half way between Chicago and Des Moines, Davenport is on the border of Iowa and Illinois. The city is prone to frequent flooding due to its location on the Mississippi River.