We connect home buyers and sellers with real estate professionals in Coeur d'Alene and many other Idaho Cities.
Beautiful Coeur d'Alene is located on the north shore of Lake Coeur d'Alene, 25 miles in length. Locally, Coeur d'Alene is known as the "Lake City," or simply called by its initials: "CDA".
LDS Population
LDS Members make up 5.99% of the population of Coeur d'Alene. The state of Idaho has 414,182 members in 121 stakes, 979 wards and 98 branches, 2 missions, and 5 temples. Idaho has the third most Mormons of any U.S. state (after Utah and California), and the second-highest percentage of Mormons (after Utah).
LDS History
Latter-day Saints first attempted settlement in what is now Idaho at Fort Limhi (later spelled Lemhi) on 15 June 1855 but that was abandoned in late March 1858. A second LDS colonization effort began in 1859 when a group of Utah saints began claiming and improving land near Franklin. The Bear River Massacre, reputedly the worst one-day killing of Native Americans in U.S. history, took place several miles northwest of Franklin on 29 January 1863. Responding to complaints regarding Indian attacks on emigrants, settlers, miners and cattle, federal troops from Fort Douglas in Salt Lake City killed about 300 natives in an early morning attack. Residents of Franklin nursed the troops' wounds as they returned to Fort Douglas. A few settlers were permitted to return to the massacre site and rescue surviving adult Natives and three small children.
LDS
REALTORS C

oeur d'Alene, ID Area
A FREE service connecting you with experienced LDS Real Estate Agents in Coeur d'Alene, Hayden, Post Falls, Liberty Lake, Spokane, and the surrounding area.
As seen on BYU-TV, we understand your family needs and concerns about food storage, ward boundaries, seminary and more. Find an LDS Realtor now!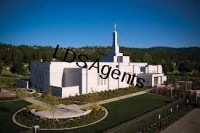 Spokane Washington Temple
30 miles W of Coeur d'Alene
Family Friendly
Coeur d'Alene offers families a wide range of activities, indoor and outdoor. A range of activities, some designed to stimulate the urban escapist seeking extreme adventure, other activities bring family members together for a vacation filled with fun and relaxation.
Coeur d'Alene is home to 44,147 people and it is the largest city in the northern Idaho Panhandle. The city of Coeur d'Alene has grown in part because of a substantial increase in tourism, encouraged by several resorts in the area. Barbara Walters called the city "a little slice of Heaven" and included it in her list of most fascinating places to visit.