We connect home buyers and sellers with real estate professionals in Kailua and many other Hawaii Cities.
Turquoise water and fine white sand have made Kailua Beach a favorite of locals and visitors alike. Add a dash of city chic, and you have Kailua Town. Located on Oahu's Windward Coast, the main part of Kailua Town consists of a few blocks of trendy boutiques, popular restaurants and kamaaina (resident) hangouts, like the Thursday evening farmers' markets.
LDS Population
LDS Members make up 5.11% of the population of Kailua. The Laie Hawaii Temple is the fifth oldest temple worldwide. In the state of Hawaii there are 69,872 members, 15 stakes, 124 wards, and 10 branches, and there is one mission.
LDS History
The LDS church was established in the Hawaiian Islands in 1850.A new phase of development for Laie began when the sugar plantation of that name was purchased by George Nebeker, the president of the Hawaiian Mission of The Church of Jesus Christ of Latter-day Saints. The Latter-day Saints in Hawaii were then encouraged to move to this location. This purchase occurred in 1865. The first LDS Church missionary to have success among the Hawaiians was George Q. Cannon.
LDS
REALTORS

Kailua, HI Area
A FREE service connecting you with experienced LDS Real Estate Agents in Kailua and the surrounding cities.
As seen on BYU-TV, we understand your family needs and concerns about food storage, ward boundaries, seminary and more. Find an LDS Realtor now!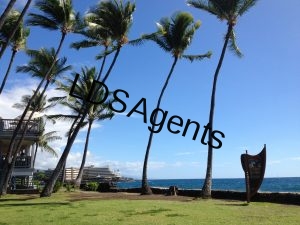 Laie Hawaii Temple
29 miles N of Kailua
Family Friendly
The biggest draw to this buzzing community is Kailua Beach. Activities abound including kayak rentals and kite board lessons. For a view of Kailua that'll make all your friends jealous, grab a water bottle and your camera and take the 1-hour Lanikai Pillbox hike. It doesn't get better than this.
About 41,080 people call Kailua home. It is 12 miles northeast of Honolulu. In the Hawaiian language Kailua means "two seas" or "two currents." It is so named because of the two lagoons in the district or the two currents which run through Kailua Bay.