We connect home buyers and sellers with real estate professionals in Huntsville and many other Alabama Cities.
The high-tech city of Huntsville which sprawls at the foot of a mountain in North Alabama is equally at home in the 19th century or the 21st. Huntsville's tourist attractions reflect the heritage of Alabama's first English-speaking city, the strife of the American Civil War and the accomplishments of America's rocket scientists. The city is nicknamed "The Rocket City" for its close history with U.S. space missions. Huntsville has been important in developing space technology since the 1950s.
LDS Population
LDS Members make up 1.28% of Huntsville's population. In Alabama there are 34,725 members, 6 stakes, 42 wards, 33 branches, 1 mission, and 1 temple.
LDS History
Concerted missionary efforts in Alabama started around 1842-1843 in Alabama with the work of Elders James Brown and John U. Eldridge. Persecution was widespread in the 1880s with some even asking Alabama's governor to force the missionaries from the state. This subsided somewhat by 1894. A Sunday School was organized in Montgomery on August 22, 1911. Many of these early converts were baptized in the Alabama River. The LDS Church began to grow more rapidly in Alabama following World War II. Alabama's first stake was created in Huntsville in 1968.
LDS
REALTORS

Bentonville, AR Area
A FREE service connecting you with experienced LDS Real Estate Agents in Huntsville, Madison, Decatur, Moors Mill, Gurley, Brownsboro, and more.
As seen on BYU-TV, we understand your family needs and concerns about food storage, ward boundaries, seminary and more. Find an LDS Realtor now!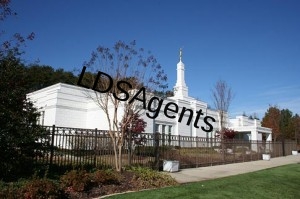 Birmingham Alabama Temple
90 miles S of Huntsville
Family Friendly
We've Got Space! It's more than a slogan in Huntsville; it's reality. With all the big city amenities you could wish for, fabulous natural beauty, four seasons and over a 100 sunny days each year you'll be glad you live in Huntsville!
Huntsville's population was 180,105 as of the 2010 census. The Huntsville metropolitan area's population was 417,593.Huntsville is the fourth-largest city in Alabama and the largest city in the five-county area, which at the 2010 census had a total population of 664,441.